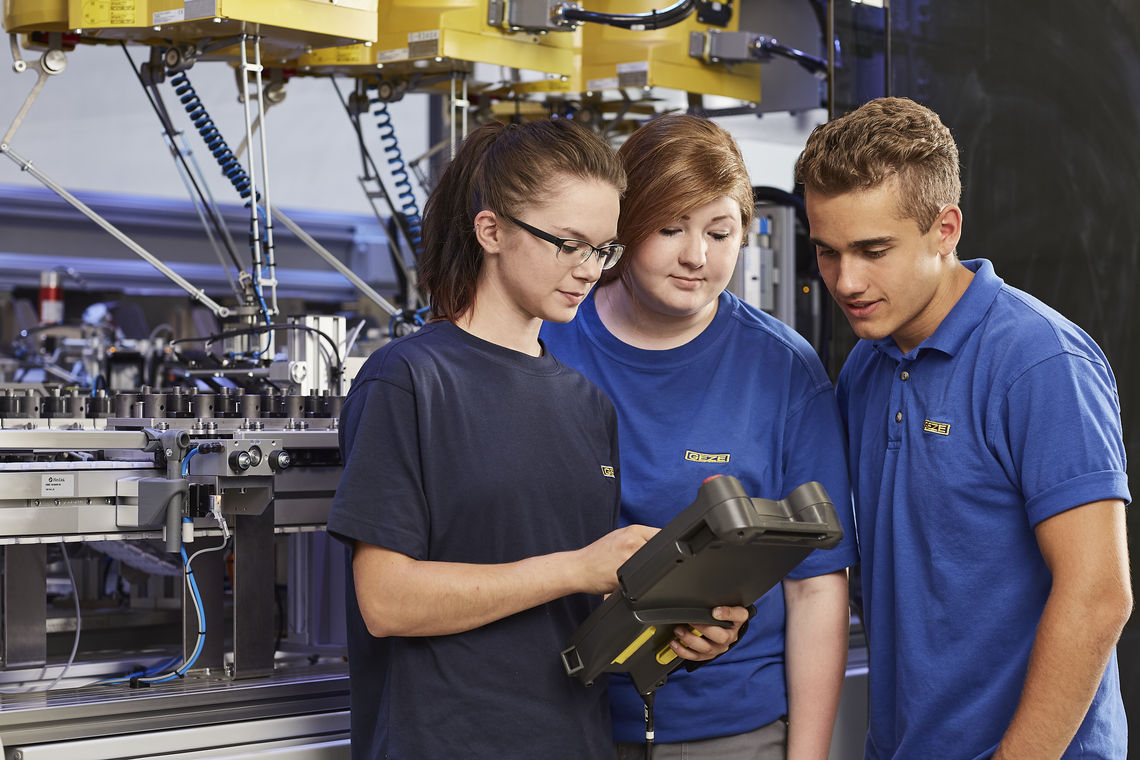 Training at GEZE – better than average in all areas
Excellent news for us at the beginning of the year: we are 'Fair Trainers 2020'. We would therefore like to thank our 41 apprentices and dual studies students who took part in the survey - and rated us very positively, and better than average in all areas, compared to other businesses. A total of 1,795 apprentices and dual studies students from 25 German businesses, including Merck, DB Schenker and Lanxess, took part.
Crucial for young professionals - the perfect entry
The 'Fair Training Programme 2020' certification from trendence Institut GmbH tests the quality of training programmes throughout Germany, using objective criteria. It is obvious to us as a family business: the first step into the world of work after school is often difficult for young people, but is a crucial factor in a successful future. We therefore dedicate an extraordinary amount of time to our new arrivals, both during the application process and throughout their integration. It is important to us to interact with new apprentices with respect and appreciation, on an equal footing.
Detailed surveys asked active apprentices about the following four criteria in total:
After the speedy processing of my application, and after the Assessment Centre, my acceptance also arrived quickly - and I have been very happy here since day one.
GEZE apprentice, original quote from the trendence study

The trendence study shows: our training programme is better than average and surpasses the expectations of our apprentices/dual studies students.
All-round support and the best conditions
Naturally, we also ensure that each of our apprentices is supported as individually as possible during training. We keep in close contact, with regular feedback discussions after the theoretical stages. "We are available for our apprentices at all times as a co-operative learning partner. Because it is important that they always have the opportunity to ask individual questions and to put everything they have learned into practice," says GEZE training manager Rolf Böhmler. "In particular, we would like our apprentices to take responsibility for developing and taking on their own projects as quickly as possible." The study emphasized the fact that regular exchanges with each other work especially well for the apprentices, whether through group training sessions or team events, such as the one at the start of the training year
Prospects are good at GEZE
And according to the study, we also score highly where the future of our apprentices and dual studies students is concerned. It's a fact that we have a retention rate of almost 100 % for the industrial apprentices - and not a single dropout. These figures speak for themselves, and both we and our apprentices are proud of this. The study especially highlighted that GEZE also offers the opportunity to start an on-the-job study course after training if interest is expressed, and if performance has been good. This has already resulted in some incredible careers at GEZE.
Employment following a dual studies degree is practically certain. All my fellow students who left the business after completing their studies chose to do so themselves. In principle, everyone has an opportunity to stay with the company, except in cases of gross misconduct or poor professional performances.
GEZE dual studies student, original quote from the trendence study
Expectations exceeded – and enthusiastic brand ambassadors
During the course of the survey, our apprentices' expectations were compared with the actual programme as it was rolled out. Our apprentices were also more than satisfied with regards to business culture, support and conditions. It is therefore no surprise that the recommendation rate is extremely high, at over 80 %. And finally, further proof that conditions at GEZE are excellent is demonstrated by the fact that our apprentices are among the best in the region.
You can find more information about our training or dual studies courses here:
GEZE training
GEZE dual studies courses
FAQ about training and dual studies