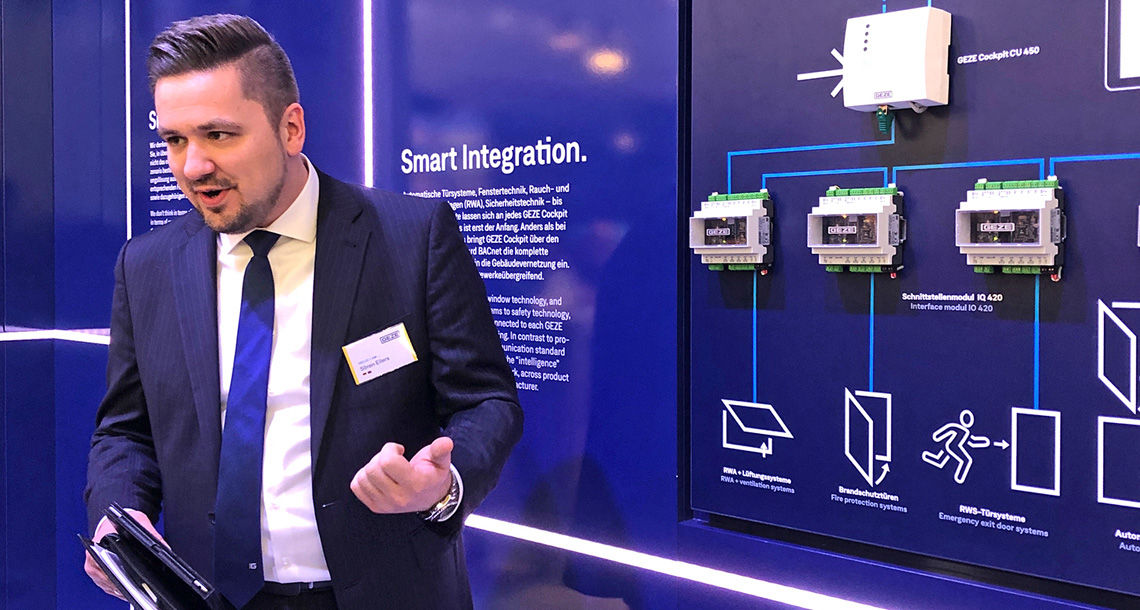 What does a GEZE project consultant do, Mr Eilers?
Episode 1. A discussion with Sören Eilers makes two things abundantly clear: first, he speaks in a wonderful Hamburg dialect, and second, he is really enthusiastic about his work – and about GEZE.
Develop comprehensive solution concepts for liveable buildings
Sören Eilers' e-mail signature describes him as a "Project consultant / architects consultant". But ask the 38-year-old, who was born in Hamburg, about his everyday work, and he is brimming with excitement: "Architects consultant is of course right, but what I do involves so much more. My job is much more comprehensive. After all, we not only serve as the point of contact for architects during the planning phase, we now also support everyone involved in planning and execution – and, of course, we are on the construction site as well". This is where GEZE's mission to be an all-encompassing, comprehensive service provider for realising liveable buildings becomes truly clear – it becomes reality.
I develop solution concepts – not just for architects, but for operators, general contractors and investors as well. I make sure our products don't just make it to the invitation for tenders, but to the construction site too!
Sören Eilers, Project consultant, Architects consultant GEZE
Consultant and equal partner
For Eilers, truly acting as a consultant – and not just telling customers what they want to hear – is very important. "The best thing about my job is that we not only impress our customers with our products and services, but that we also have an equal relationship based on trust. I can definitely be open with an architect and say: 'Your planning is going in the wrong direction I would do it this way, for this reason'". As well as professional knowledge and expertise, that takes empathy and self-confidence.
Talking to people at the BAU trade fair
Eilers really shows his ability to talk to customers at trade fairs. "I like attending trade fairs, because I learn so much there so quickly. About our customers, about myself – and of course, about our products," says Eilers. He was at the BAU, the leading trade fair in Munich, all week at the new exhibition stand – he especially remembers the reactions to one product in particular. "When you explain the advantages of the SoftClose to people, you really see the Wow effect. And when you feel like you've sold truckloads of the product, then in my mind that's a real highlight!"
Sören Eilers – project consultant in action at the BAU trade fair
Explaining GEZE products
Many GEZE products require explanation. It takes expertise and tact to engage customers and stakeholders on an equal level.
Impress with quality
GEZE products are high-quality. With empathy and enthusiasm, any potential customer can become a customer.
Presenting GEZE Cockpit
GEZE products are networked. Because of this, the digitalization centre featuring GEZE Cockpit gets plenty of visits – and our innovations are presented in an easily understandable way.
Creating optimal connections for people and technology
But how does someone like Sören Eilers come to work at GEZE? "I always had a certain affinity with technology. I also love talking to people – I like to communicate," he grins. Trained as a "Systems information scientist" at Bosch, he became aware of GEZE four years ago – and was delighted to get the job in the Pre Sales area. And now laughs about the scepticism of his former colleagues, who thought the building fittings area would be boring. "We are talking about building concepts, ventilation concepts, automation concepts and highly complex networking plans – this is a very diverse, challenging and complex job I find complexly fulfilling," says Eilers.
As a technologically minded person, I think it's very exciting that we develop highly innovative products like GEZE Cockpit – no one else can do it like that!
Sören Eilers, Project consultant, Architectural consultant GEZE
Settling in at GEZE
Eilers has never regretted his decision to switch from a large group to a mid-sized family business. He found even the initial training phase a GEZE to be highly positive and professional. "I was and still am receiving excellent support from GEZE. Whether it's the HR department, in-house services or my Hamburg team – I feel that I really fit in here. Although you do work with a lot of different people, because GEZE is a large, international company, you never have the feeling you are working in a corporate group. It feels like a mid-sized family business in the most positive sense of the concept, for instance in terms of flat hierarchies".
He also emphasises one unique feature: "I even got the chance to work in production during my initial training phase. Putting together a sliding door drive myself, it was good to get a sense for that. It also helps you get to know GEZE quality first hand".